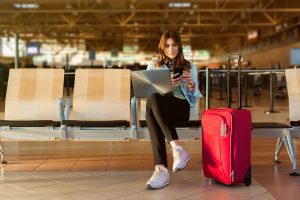 So, you booked a flight with a layover. Congrats, you probably scored a great deal on your airline ticket! However, unless your layover will have you running across the airport for dear life in hopes of making your connecting flight, you'll likely need to entertain yourself for a few hours before the adventure continues. You might even end up spending more time than you bargained for at the airport: in 2017 nearly 18% of all flights departing the United States experienced delays.
 All this to say, you'll need to arrive at the airport with enough intellectual ammo to keep you entertained, and all the right comfort items to keep you feeling fresh. Here is our recommended packing list to make your layover, however long, as comfortable as possible.
Battery pack
Coming in at less than $50, this might be the best purchase you ever make. If you don't feel like being tethered to a wall while juicing your phone, take a portable battery pack with you wherever you go. The utility of this gadget extends far beyond simple airport convenience – it's bound to become a purse or backpack staple before too long.
Magazines
There's something extra special about leafing through the glossy pages of a magazine. While you might opt for scrolling through a news app on a regular day, an airport stay is the perfect opportunity to reignite your love for trashy tabloids or flashy car mags. If you're reading this from your gate, chances are you're just minutes from your terminal's nearest convenience store. Go forth, your magazines await you.
Toiletries
After sitting around for hours, there's no better way to feel human again than indulging in some basic hygiene. The airport has an uncanny ability to drain your skin of its moisture at break-neck speed, so if you start feeling cotton-mouthed or leather-skinned, book it to the washroom with your toiletries. Brush your teeth, wash your face, and moisturize – you can thank us later.
A book or e-reader
Seldom do we have the time to indulge in the lost art of reading an actual book. When you're stuck at the airport, there's no longer an excuse; section off an hour of your time to get lost in a novel, and travel to other worlds without ever setting foot on a plane.
Podcasts
They're all the rage these days. Podcasts are audio stories that can span anywhere from just a few minutes to hours and hours, covering just about any topic you can imagine: news, relationships, sports, science, technology, you name it. There are over 500,000 different shows available on Apple Podcasts alone – so if you're looking to expand your mind and always have something to talk about with your friends and family, jump on in.
Granola bars
Do you love spending $17 on a sandwich with one and a half slices of ham inside? No? If not, make sure to pack some snacks before you go. Dry foods such as granola bars, nuts, and fruit leather are both healthy and low on the soggy food scale, so you can reach for them anytime.
Before you get to packing your layover bag, don't forget to book your parking spot before you go. With OneStopParking.com, you can access the lowest possible rates for your stay, and score your parking space for a super-affordable price.