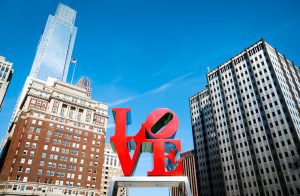 There's only one place in America you can go to for the ultimate cheesesteak. It's the same place that is home to the second-largest Irish and Italian populations in the United States, right behind New York City. We're talking about Philadelphia, the largest city in Pennsylvania!
If you're traveling to Philly, you may be on your way to see the Liberty Bell, visit the Philadelphia Museum of Art, browse the many stalls at Reading Terminal Market, or grab a pint at one of the city's many local breweries.
No matter what your itinerary has in store, you will likely need to walk the halls of Philadelphia National Airport before the adventure begins. Before you go, make sure you're prepared: consult our handy airport guide for essential info about this Northeastern travel hub. 
Where to stay
On either side of I-95, PHL is encircled by a wide selection of hotels. The Four Points by Sheraton offers free wifi and a complimentary airport shuttle, as do the Hilton DoubleTree and Sheraton Suites. Looking for some free breakfast? Try the Residence Inn!
Parking
 PHL's parking system is very straightforward. As a motorist, you have three options.
On-site airport parking for short-term visitors is available on the ground floor of the main garage, with regular longer-term parking spaces occupying the upper levels of the structure.
The usage fees are largely the same for both types of parking: starting at $4 for 30 minutes, add $2 to your bill with every extra half hour, until you reach $12 for 2.5 hours. Three hours will run you $15, and a half hour more makes $17. The big difference occurs at the 24-hour mark: short-term costs $44 per day, whereas standard garage parking caps out at $24.
AAdvantage® Aviator™ Mastercard members are eligible for discounted rates at the above garages.
Economy parking will run you a much cheaper $11 per day. Located a little further from the airport, you can catch a complimentary shuttle to and from the terminals if you use this parking area.
Don't circle the lot for hours! Give yourself the gift of peace of mind and head to OneStopParking.com to sort out your parking needs before you fly – if you book with us, daily rates at PHL start at just $5.25.
Heading into town 
For $6.75, you can ride the SEPTA train from the airport to Center City station. It runs every half hour from 5:07 AM to 12:30 AM.
Where to grab a bite
According to Eater Philadelphia, foodies should be heading to Concourse B for their best airport dining bets. Heavy-hitters in this area include Baba Bar, a Mediterranean destination under the guidance of Top Chef Nicholas Elmi, Noobar for sushi and ramen, and Germantown Biergarten for an impressive wine and beer list.
For a hot dog the size of your arm, head to Love Grille. If you're in the market for an impressive slice of Neapolitan pizza, it's got to be Mezzogiorno. Both of these spots are located in Concourse B.
Concourse E is home to La Colombe serving up genuinely tasty fresh-brewed coffee, alongside Boule Cafe, another roaster over in the fabled Concourse B.