If you're stuck in Atlanta's Hartsfield–Jackson airport, you're sure to be in good company. This international hub has been crowned the world's busiest airport every single year since 1998, based on the number of passengers and flights that pass through it: ATL can usually expect 275,000 travellers a day. This should come as no surprise since this airport is within a 2-hour flight of a whopping 80% of the American population.
If you have just received news of an unexpected delay or extended layover in Atlanta, don't despair! Instead of spending the next few hours bent over your smartphone or staring at the ceiling, here is all you need to know to combat the layover blues.
The Basics
Once you're in, you're in – no need to go through security again after accessing any of ATL's myriad concourses. However, the same does not apply to the atrium/terminal area, so make sure to plan ahead.
Most shops and restaurants are open between 9 AM and 6 PM, with a few snack-y exceptions open until 11 PM. Atlanta Bread Company is open 24 hours a day if you're feeling the late-night munchies. The airport's many branches are connected by an underground subway that runs every few minutes, making the voyage from concourse to concourse a breeze.
Dine In Style at One Flew South
If you're looking to forget that you're inside an airport at all, let One Flew South (concourse E) be the pre-escape to your holiday escape. Thoughtfully decorated in a serene fashion that pays homage to its home state, this upscale restaurant serves 'Southernational' fare, including sushi, and prides itself on mixing cocktails you actually want to sip on. Take-out is also an option.
Indulge In Some Serious Skincare
Nothing makes for dry, sallow skin quite like being in transit. Kiehl's (concourse B & F), L'Occitane (concourse A), LATHER (concourse T), and The Body Shop (concourse F) are here to help. Enjoy refreshing fragrances, luxurious creams, and, if you're lucky, a few free samples to take with you!
Shop Duty-Free Luxury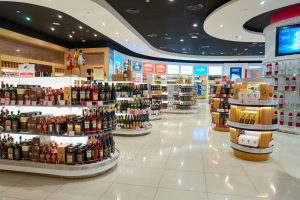 With the likes of Michael Kors (concourse E & F) and Montblanc (concourse F) setting up duty-free outposts in ATL, there has never been a better time to splurge on that luxury item you've been eyeing for months.
Find Your Happy Place At XpresSpa
With locations in concourses A and C, XpresSpa is a key destination if you're looking to have a genuinely relaxing airport stay. Sink into a head massage, foot massage, manicure, pedicure, or any number of pampering treatments to thank your body for sustaining a long day of travel.
Turn ATL Into Your Personal Museum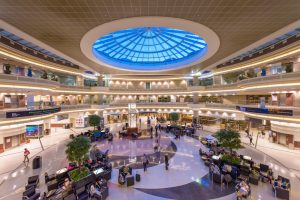 Hartsfield–Jackson has put a commendable effort into its Airport Art Program. With permanent and rotating exhibits alike, ATL is alive with colorful installations, murals, sculptures, and more. These splashes of color and history line everything from the walls to the ceiling, so keep your head on a swivel!
Get Some Peace And Quiet
Minute Suites is your in-airport oasis. It's not free, but by renting a Minute Suite, you get access to a daybed sofa, fresh linens, and pillows – far from the rowdy masses at the restaurants and gates. These suites double as workstations, providing visitors with the essentials like a desk, chair, and of course, access to the airport's free WiFi.
this is covered in the first link