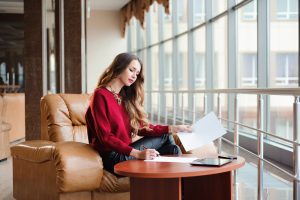 Most travellers have yet to explore the luxurious subculture of airport lounging. Beyond the rows of chairs with worn-down padding and nine-dollar muffins lies a world of quiet and calm, where food and drink flow freely, and comfy couches are common.
One of the reasons why these lounges are so shrouded in mystery is due to the fact that there is often a certain exclusivity to them. For some airlines, you must either be toting a business- or first-class ticket to enter their lounge space. For others, a membership with a specialized credit card will do the trick. It is also possible to purchase memberships to certain lounge networks on an annual basis, or day passes for less-frequent flyers.
The truth is, the average airport lounge is nothing more than a tucked-away place to have a bite to eat and not get a stiff neck. But those that are not-so-average are in a league of their own.
Read on to take a peek at the 5 most eye-popping airport lounges in the United States.
1. Oneworld Lounge – LAX
This modern mecca serves travellers that are flying an airline that is part of its namesake group of providers.
A naturally-lit atrium sits in the centre, surrounded by chic, comfortable seating on all sides. The black-tiled bar near the entrance is the perfect place to treat yourself to complimentary wine and cocktails. After that, head to the dining area to sample famed Australian chef Neil Perry's delectable creations.
In an act of true indulgence, enjoy one of 16 fully-stocked shower suites so you can leave feeling refreshed and at your best.
2. Virgin Atlantic Clubhouse – JFK
JFK is no stranger to upscale airport lounges, but Virgin's takes the cake. This space's take on modernity is almost other-worldly, with eye-popping colourful couches and pod-like seating dotting the area.
Wander up to the bar to enjoy a mixture of classic and custom cocktails, and an ever-changing gourmet menu at the in-house eatery.
Pampering options include a complimentary snip at the Bumble and Bumble salon, spa treatments featuring the Dr. Hauschka skin care line, or a good old-fashioned massage.
3. Delta Sky Club – JFK
Once you enter an airport, the next time you'll breathe fresh air is after you land – except if you visit this lounge. An outdoor open-air patio, the SkyDeck, is the perfect escape for chronic claustrophobes seeking un-recycled air.
While munching on complimentary snacks and sipping a drink, enjoy a rare view of the tarmac and observe JFK's goings-on in a whole new way.
4. Amex Centurion Lounges
This line of out-of-this-world lounges could populate a list of its own, and now boasts eight impeccably-designed locations across the continental U.S.
Visitors to the Dallas lounge can benefit from a host of complimentary treatments at the posh Exhale Spa, shrouded in light, airy decor. Travellers at the San Francisco branch can enjoy sipping on an expansive collection of native California wines, and a restaurant menu dreamed up by three-Michelin-starred chef Christopher Kostow. Exceptional food by notable foodsmiths can also be found at Centurion Lounges in Miami and New York (LaGuardia). Bon appetit!
5. Cathay Pacific – SFO
Customize your order of Hong Kong-style noodles in this slate-accented urban oasis. Intimate workspaces and a relaxing, earthy colour palette are clear indicators that this lounge's allure is all in the details, from bamboo stools and tables to marble tabletops.
Take advantage of its luxurious shower stations, espresso bar, and self-serve buffet to relax and recharge before your flight.
Before you can put your feet up, you'll need to park your car. Visit OneStopParking.com to reserve and pre-pay your parking spot today.