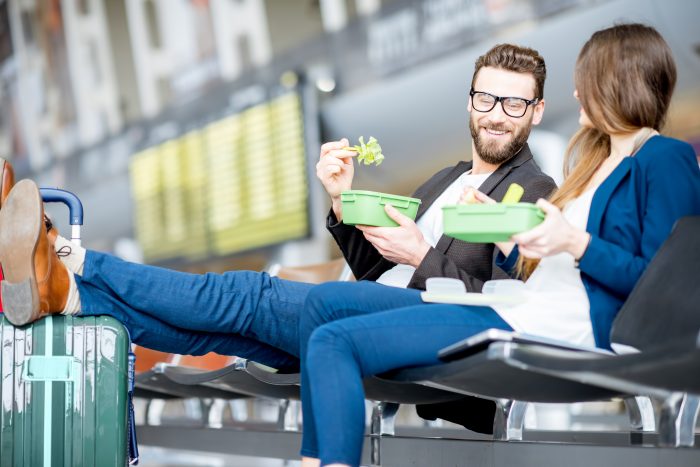 Picture this: you're on a long haul flight and you're absolutely starving. The snack menu is – shall we say – underwhelming, or worse, you were so tired you slept through food service and now you're starving. The pretzel bites given-out by the flight attendant just aren't going to cut it, but luckily, you thought ahead and packed some delicious in-flight snacks to make the trip a little more pleasant.
Water
Always bring a bottle of water onto a flight. Sure, the flight attendant will usually give you water whenever you want, but they're busy. You don't want to bug them. Obviously, bringing water through TSA security is a no-no, but after security, there are loads of stores where you can pick up a big bottle of water that will last you the whole flight.
Fruits and vegetables
While you might think that bringing fruit past TSA might be a problem, such is not generally the case. You can easily pack a nice healthy fruit snack, and if you forget – you can usually get dried fruit snacks at the airport which are also great for flights. It's also worth checking out what the grab and go restaurants have, as they often have handy carrot and celery snack packs with a dip that can be a lifesaver on a long flight.
Junk food
Even if you're trying to eat healthily, some sweets for the flight aren't a bad idea. After all, flying's not an everyday thing. Many airports have candy stands where you can buy a yummy mix of candies (my favorite – gummy bears), but in a pinch, a candy bar will do the trick. A bag of chips is also a nice treat if you need a little pick me up.
Nuts
Remember when every flight used to come with bags of honey roasted peanuts? Many flights don't offer those anymore due to the prevalence of peanut allergies, but there's no rule saying you can't pack your own. Even better – opt for a heart-healthy trail mix, which will leave you feeling energized and satisfyingly full.
Sandwiches
While bringing fast food onto a flight may not be the best idea (although it's certainly doable), a well-packed grab-and-go sandwich from Starbucks or an airport café can be a satisfying alternative to the in-flight meal service (especially if your flight doesn't come with a meal).
While going through security with food is no one's idea of a good time, airports always have plenty of shops in their terminals where you can stock up on all the snacks that will make your flight a lot more enjoyable. Treat yourself!