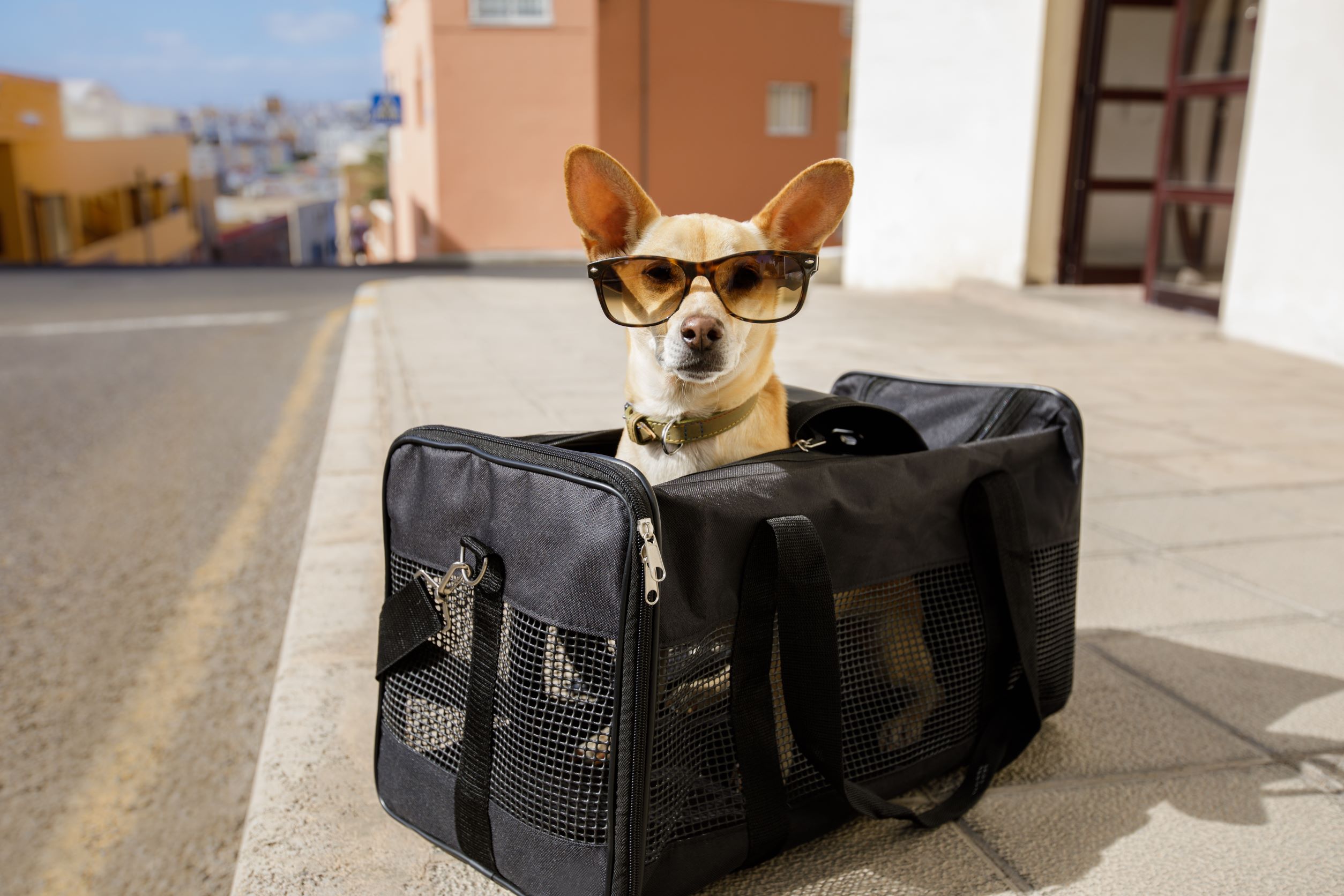 Our pets are family. This means we would ideally like to bring them along when we travel. But traveling with a pet can be stressful unless you're properly prepared. This article shares super useful tips for traveling on a plane with your dog. So, if you're interested in bringing your furry friend with you to your next destination, use this guide to help you plan.
How to Travel With a Dog
If traveling without your dog just won't do, you're in luck. Modern air travel allows four-legged passengers as well. In general, most airlines allow pets to travel with you either in the cabin or in the cargo hold. It's important to note that airline policies have changed as a result of the pandemic — some have temporarily suspended pet transport in the cargo hold, so it's imperative to do your research.
Although the costs vary from airline to airline, most have similar guidelines for traveling with a pet. It's pertinent to find out about restrictions or requirements in advance so you're fully prepared for the process of traveling with your dog on a plane. Here are some helpful tips on how to travel with a dog:
Tip #1 – Arrange It With the Airline
The first and most important step is to plan it with your airline. Make sure you arrange for your dog to fly with you when you book your own tickets. It's best to do this early to ensure there's space in the cargo hold if your dog is too large for in-cabin travel.
Certain restrictions apply if you choose to bring your dog with you in the plane's cabin. For example, the pet carrier needs to be small enough to stow under the seat in front of you. Also, the dog and carrier can't weigh more than 20 pounds combined, and the dog has to be able to stand up and turn around in the carrier. This option is only suitable for smaller dog breeds.
Tip #2 – Drive Yourself to the Airport
Another clever tip for making the process of traveling with your dog easier is to drive yourself to the airport. The drive to the airport can actually help your dog get comfortable with the idea of traveling. You're helping your pooch get into travel mode. Plus, your pup is likely used to being in your vehicle already, which means this is simpler than worrying about taking your pet in an Uber or a taxi. Simplify your journey further by searching for and booking your airport parking in advance using One Stop Parking.
Tip #3 – Take Your Dog for a Walk
Flying can be uncomfortable for dogs, too, as they have to stay in their pet carrier for an extended period of time. Regardless of whether it's a long or short flight, give your dog some exercise before the flight. You can do this by taking your four-legged friend for a long walk before heading to the airport. This helps tire out your pup in advance. Your pooch is less likely to be restless in the carrier during the flight.
Tip #4 – Choose Your Pet Carrier Wisely
Your dog is going to be spending quite some time in the pet carrier. Whether your pup is in the cargo hold or in the cabin with you, it needs to remain in the carrier throughout the journey. This can make active pets feel quite anxious, so you want to make sure your furry friend is as comfortable as possible. Invest in a high-quality, portable pet carrier large enough for your dog and designed for pet comfort.
Tip #5 – Give Your Dog Food and Water Before Departure
Prepare your best friend for the flight while you wait at the airport. Give your dog food and water within four hours of your flight's scheduled departure time. You'll likely have to sign a waiver confirming this when you check in.
Don't overfeed your pup, as a full stomach can result in vomiting if your pet gets anxious during the flight. Also, don't leave food or water in the bowls. Instead, clean them out and place them in the carrier with your pet along with some extra food in a plastic bag tied to the carrier for the flight. You could even stick a note on the carrier indicating the last time your pet ate and drank so that attendants know when to do so again.
Can I Buy a Seat for My Dog on an Airplane?
You can't buy a seat for your dog on a plane. However, you can pay to take your dog with you as carry-on luggage. This usually has a lower cost than if your dog travels in the cargo hold. It's important to note that the pet carrier counts as your carry-on bag.
Can My Dog Sit on My Lap During a Flight?
No, your dog must remain in the pet carrier at all times. The pet carrier must also remain stowed under the seat in front of you. You can't put the carrier or your dog on your lap during the flight.
What if My Dog Barks on the Plane?
If your dog barks or whines during the flight, try your best to calm it and get your pup to stop. If the barking continues, speak to a flight attendant to request permission to take it out of the pet carrier for a short while. However, if that doesn't help, you may need to take your dog down to the cargo hold.
Find Convenient Parking for Your Trip With One Stop Parking
Make use of the service that One Stop Parking offers when planning your trip; especially if you'll be driving to the airport with your dog. Being able to drive yourself to the airport helps make the journey easier for your dog and if you have prebooked and paid for your airport parking through One Stop Parking, the process is simpler for you. Explore OneStopParking.com to find safe, convenient and affordable airport parking for your next trip with your furry friend.