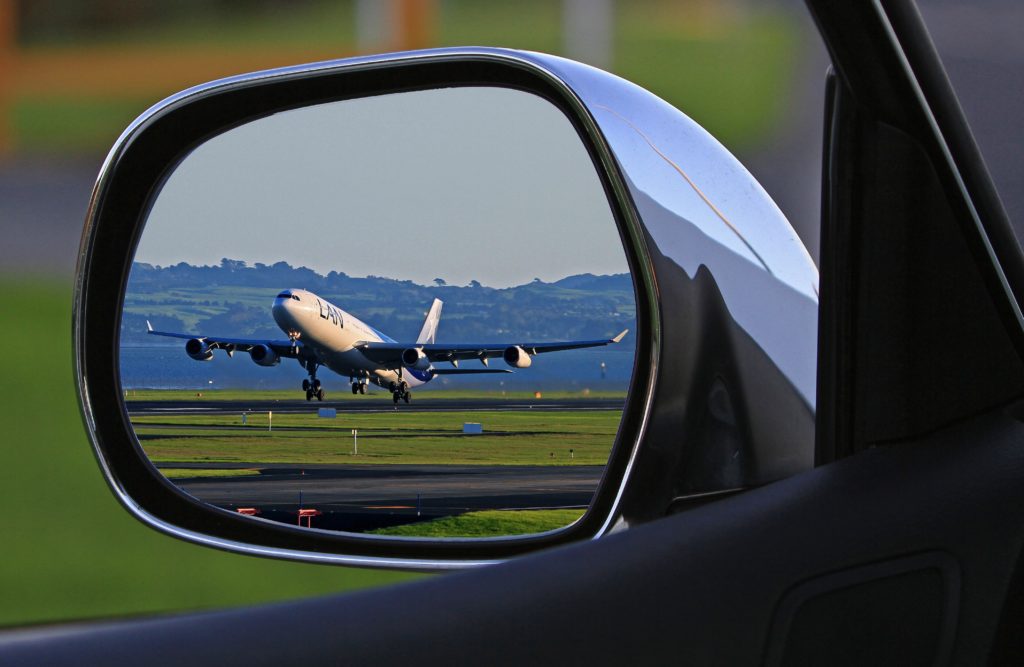 Trip planning often requires considerable decision-making, and airport parking for your vehicle is one of the most important choices you face when planning your trip. If your trip is going to be longer, then where you park is going to matter even more for both safety and cost. Today's travelers have many options, from rideshare or private shuttle services to airport parking lots or private parking options nearby.
Every traveler's needs and wants are unique, and what works for one person or group may not be the right choice for another. With so many options to choose from and different scenarios to envision, there's no way we can provide a blanket best option for everyone. However, we can offer our take on the prospective best solutions for your next trip by weighing the cost versus the benefits of two of the most popular airport parking options.
Read on to explore the pros and cons of parking at the airport or parking in a private parking lot at a hotel close to the airport.
Hotel Parking Close to the Airport
For most travelers, private parking close to the airport provides security, peace of mind and substantial cost savings compared to airport parking lots and garages. Private lots are often based at quality hotels close to the airport and offer short-term and long-term parking and competitive rates year-round. Private parking at airport hotels usually provides enhanced security, ease of use, shuttle service, and premium drop-off locations.
Whether traveling for business or pleasure, for a weekend or a month or in a group or alone, private hotel parking close to the airport can make your trip easy, convenient, and safe at a significantly reduced cost when compared to parking garages. 
Benefits of Off-Site Parking Services
Here's the lowdown on how you can benefit the most from parking your vehicle at a private lot for the duration of your trip. Private parking services provide the best option for planned travel, whether you're skipping town for a three-day weekend, attending an out-of-town business conference or seminar, vacationing for a week or two or planning to be out of town for a month or more.
Private parking provides round-the-clock security in brightly lit parking lots or enclosed structures. Parking spaces are often more spacious than airport parking stalls, which reduces the risk of vehicular damage like dents, scratches or broken windows. Many hotel parking lots offer underground or otherwise enclosed parking that can protect your vehicle from storms, hail damage, extreme temperatures and other inclement weather.
Airport Parking Lot
According to Forbes, a recent study shows parking and car rental revenues secure nearly $4 billion in annual payments for U.S. airports. That amounts to around 41% of airports' non-aviation income. For some travelers, airport parking can cost more than an airline ticket. For instance, a week at Boston or San Francisco airports can cost upward of $130 and 72 hours adds up to $80 or more at Phoenix Sky Harbor Airport. With that kind of cash, it's no wonder airports encourage travelers to park at the airport. And airport parking lots can provide some benefits, like convenience and speedy drop-offs.
Risks and Benefits of Parking at the Airport
Here's the 411 on the risks and benefits of leaving your car at the airport parking garage. If you're leaving for a short business trip or you have a last-minute flight or emergency situation, you may want to leave your vehicle at the airport. The close proximity of airport parking lots and garages can offer convenience and speed if you're in a hurry or if you can write off the parking charges for work.
Short summer trips are more suitable for exposed airport parking lots than winter travel. Many parking lots are open to the elements, and leaving your car at open-air during milder spring and summer months for short periods may be fine. But during the winter, travelers should keep in mind that open airport parking lots may leave vehicles exposed to harsh winter temperatures and inclement weather that could cause issues when you gather your vehicle, especially after an extended trip.
Typically, airport parking is first come, first served, and no reservations are required when parking at the airport's parking lot or garage. Simply drive up to the parking entry, take a ticket, place the ticket on the dashboard and find a parking spot. Various rates for your lengths of stay should be outlined at the parking entry, so note the total cost for your stay.
Tips When You Park at the Airport
Remember to write down which section and spot you park in, and if there are several parking lots or garages, note which one it is. Take a picture of your parking spot and include the surrounding area and any identifying information, like signs or wall markings. To recap, airport parking may provide convenience and speed for short-term business travelers, weekend warriors or quick emergency trips, especially during mild spring and summer months.
Which Airport Parking Option Is for You?
After reviewing the benefits and risks of parking at an airport or parking at a hotel close to the airport, we conclude that most airline travelers will find more value, security and peace of mind by parking at a secured hotel parking lot close to the airport.
Some of the top benefits that One Stop Parking's private parking service offers include:
Huge Cost Savings – Pay up to 80% less on parking compared to standard airport parking fees.
Safety and Security – 24-hour, on-site security ensures your vehicle is safe and secure day and night for the duration of your trip.
Reduced Risk of Damage – More spacious parking stalls, bright lighting and covered parking protect against damage from weather and other drivers or vehicles.
Convenience – Free shuttle service to and from the airport and free cancellation offer the most comfort and ease of use.
Parking at one of One Stop Parking's convenient, secure airport locations takes only 15 to 20 minutes longer to arrive at your terminal than parking in the airport parking lot or parking garage. We consider that added 15 minutes a worthwhile investment that provides far greater returns than cost.
Why Choose One Stop Parking
With One Stop Parking, you can easily book your parking space in advance online or by phone. Enter your departure airport and trip departure and return dates to find safe, affordable and convenient parking locations at respected brand-name hotels. Choose a convenient reservation and pre-pay online or over the phone. All prices are listed in full, and you'll never be struck with surprise hidden costs or additional fees and surcharges. 
If you need help booking your reservation, you may email us at info@onestopparking.com. One Stop Parking never requires a room reservation or a shuttle reservation when parking at one of the premium hotel parking stalls. Cancellation is always free for all reservations, no questions asked.
Once you park at your chosen One Stop Parking lot, a free shuttle will pick up you, your party and your luggage from the parking lot and drop you off at a convenient location nearest your airline's check-in counters in the airport's departure terminals. If you decide to prolong your trip, simply extend your parking reservation online or over the phone.
Keep the receipt you're given when you park at the lot. Call the shuttle number provided to get picked up and taken to your car on your return.
One Stop Parking Rewards Program Provides Loads of Perks
We already offer the best airport parking prices available, but joining the One Stop Parking Rewards Program means you'll get significant savings on future stays the more often you book with us.
Earning points is easy with our members-only program. You'll get 100 points for every $1 you spend (excluding taxes and fees). Points are credited after completing your trip, and your points never expire. There are three member levels (Ivory, Silver and Gold) that offer tiered rewards.
You automatically qualify for Ivory reward perks after you complete your initial stay at one of our airport or seaport locations. Three qualifying trips levels you up to Silver status and six trips get you top-level Gold rewards.
See OneStopParking.com's rewards page for more information.
Sign up with your email address to get more special offers from One Stop Parking today.
Choose One Stop Parking for Your Next Trip
One Stop Parking is committed to providing customers with convenient, safe, premium parking services for affordable prices at more than 65 airports throughout the U.S. and Canada and five seaports across Florida. At One Stop Parking, we are a family-run business dedicated to staying small by choice so we can better serve our customers. Contact us to receive attentive, personalized service. Have questions? Check out our FAQ page to get answers to our customers' most common questions.
Let One Stop Parking help with all your airport parking needs and enjoy the many benefits of our parking service for all your future airline travels.